This winter will be a little warmer for 83-year-old Lynette Carter thanks to a grant from the RAF Benevolent Fund.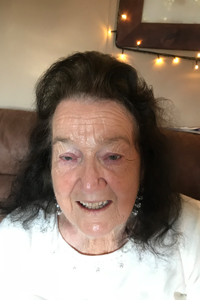 The cash means the RAF widow has been able to replace her labour intensive log burner with an electric heater, which is much more manageable for her. Lynette suffers from arthritis and a chronic lung condition (COPD) which means soot from the fire was making her ill.
She said: "I am so grateful for the help that the Fund has given me, you cannot even begin to know. In the evening it is terrific to know you have only got to put the switch on, there's no need to carry heavy logs in. If it had not been for the Fund, I would have had to go without."
Lynette, who lives in Norfolk, is eligible for support from the RAF Benevolent Fund through her husband Geoffrey Carter, who served in the RAF just after the Second World War but who sadly passed away two years ago.
The great-grandmother is also able to get out and about more easily thanks to an earlier grant of more than £1,200 for mobility equipment and alterations to her home to make the front entrance more accessible.
She added: "I would not be able to go out if I did not have my rollator. It allows me a little independence so at least I can walk outside. The Fund has been a lifeline for me."
If you would like to help the RAF Benevolent Fund support more veterans and RAF Family members click here.