As a new film, Hurricane, which goes on UK release on 7 September, tells the tale of the bravery of the Polish Fighter Squadrons, we take a look at how the gallantry of these young men proved invaluable during the Second World War.
In 1940, more than 8,000 Polish airmen arrived on English soil to be met by a feeling of scepticism about their flying ability amongst the British pilots. But things were becoming desperate for the Royal Air Force with many of their most experienced pilots killed, wounded or simply exhausted.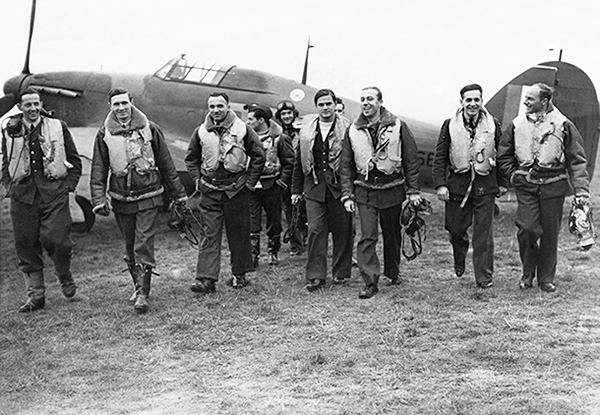 The first Polish fighter pilots joined RAF Squadrons in July that year. A total of 145 Polish airmen fought in the Battle of Britain, the largest non-British contingent, 79 airmen in various RAF squadrons, 32 in 302 Squadron and 34 in 303 Squadron.
302 and 303 were the first Polish fighter squadrons to be established and it soon became clear to the British that they were extremely skilled pilots and would be a terrific asset to their own Squadrons.
302 was the first Polish squadron to be declared operational and entered battle on 15 August. Operationally it belonged to 12 Group and just five days later it intercepted its first enemy aircraft.
Meanwhile, on 30 August 1940, 303 squadron scored its first victory while still officially non-operational, when Flying Officer Ludwik Paszkiewicz shot down a German aircraft during a training flight.
The squadron was declared operational the next day. 303 Squadron became the most successful Squadron during the Battle, shooting down 126 German aircraft in only 42 days. The Poles' fearsome reputation was deserved; 303 Squadron made the highest number of victory claims during the Battle of Britain, despite only joining it halfway through.
Twenty-nine Polish pilots, including Paszkiewicz, lost their lives in combat against the Luftwaffe during the Battle of Britain. These pilots are remembered at the Polish War Memorial near RAF Northolt.
Commander-in-Chief of Fighter Command, Air Chief Marshal Sir Hugh Dowding, who once was so reluctant to allow Polish pilots into battle, summarised their contribution in probably the most telling way: "Had it not been for the magnificent work of the Polish squadrons and their unsurpassed gallantry, I hesitate to say that the outcome of battle would have been the same."
Visit the Battle of Britain homepage