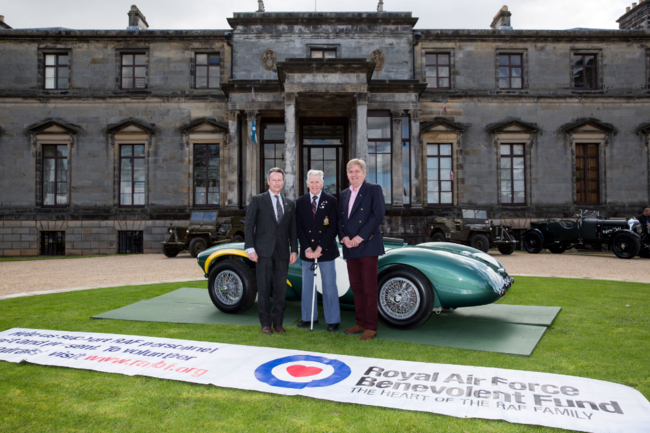 Broomhall House fundraising team takes home national charity award
The team behind an annual event at Broomhall House have won the title of Fundraising Team of the Year at the RAF Benevolent Fund's annual awards.

The ceremony, held virtually on 13 October, was attended by hundreds of RAF personnel and supporters of the Fund in a night which celebrates the achievements of those who support the RAF's leading welfare charity, from dedicated individuals and groups to RAF stations and corporate partners.

Charles Bruce of Broomhall House, Mark Ryan of Driving Scotland and Stuart Gray of Knockhill Racing Circuit have come together for the past two years to raise more than £35,000 for the RAF's leading welfare charity.
The businessmen first held an event in 2018 to commemorate the RAF's centenary year, driving a convoy of super cars from South Queensferry across the Forth Road Bridge to the Dunfermline ancestral seat of Robert the Bruce at Broomhall House. The following year they built on the experience to include flypasts and ground displays to mark the Fund's own centenary.
Mark Ryan, of Driving Scotland, said: "It is a true honour to help raise funds for this wonderful charity. Our history of the Royal Air Force in the United Kingdom is something we should all be proud of and I know I am. I am very humbled to accept this on behalf of the whole team."
The three men all have their own reasons for supporting the Fund. For Charles Bruce and Stuart Gray, their support is in tribute to relatives who have served their country. As a former police officer, Mark Ryan knows what it is to put duty before self and wants to give something back.
The award was annonced by Air Marshal Peter Ruddock, Chief Executive of Lockheed Martin UK, who sponsored it.
Air Vice-Marshal Chris Elliot, Controller of the RAF Benevolent Fund, said: "During my first few months at the Fund I was struck by the dedication of our supporters who go to incredible lengths to ensure we are able to continue our work supporting the RAF Family. The awards are our opportunity to celebrate those who make all of this possible and thank all our supporters.

"Huge congratulations to all of the winners, especially the team behind Broomhall. We truly would not be able to do what we do without every single one of our supporters whether it be raising money or awareness, helping us to reach even more members of the RAF Family."
Now in its eighth year, the RAF Benevolent Fund Awards recognise the outstanding contributions of its supporters, personnel on stations and corporate partners who support the charity each year.