Chief of the Air Staff sends Christmas cheer to isolated Second World War veteran
Chief of the Air Staff, Air Chief Marshal Sir Mike Wigston has taken some time out to help the RAF Benevolent Fund spread some Christmas cheer to isolated RAF veterans.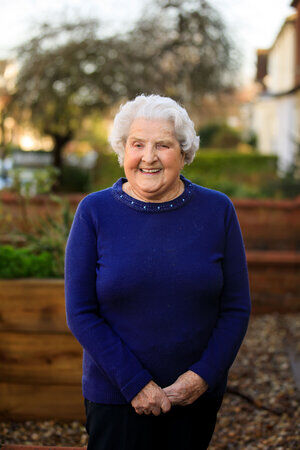 Ninety-eight-year-old WAAF veteran Louisa Hovell has been shielding for the majority of this year, like so many others of her generation. She receives a weekly Check and Chat call from the RAF Benevolent Fund, a new service introduced in response to the global pandemic, as well as financial support to top-up her pension.
Mrs Hovell, who lives alone since her husband Len died in 1982, is a former barrage balloon operator who served during the Second World War.
She said: "We had a really nice chat and we talked about all sorts of things, about the forces and our families. I told him all about what the Fund has done for me and their great support. They do a marvellous job and their help means I can put my heating on and I don't have to worry about it."
Since its launch, more than 3,000 calls have been made to offer a listening ear and also identify any welfare needs of those receiving the calls. In addition, the Fund has doubled the number of Telephone Friendship Groups it operates, made grants to RAF stations to support families living there and introduced a digital platform, Airplay Connect.
Air Chief Marshal Wigston said: "It was my pleasure to speak to Louisa, to hear about her time in the Women's Auxiliary Air Force and her life after that, to find out how she has coped with this challenging year, and to hear how the Fund has made it all easier to bear."
During her wartime service, Mrs Hovell's role was to maintain barrage balloons – the large balloons that acted as an obstacle for hostile aircraft.
"There were hundreds used to go up at the sirens, hundreds," she remembers. By ensuring the balloons were firmly attached to their moorings and keeping them filled and airborne, she helped protect those living below from enemy fire. Despite the danger, Mrs Hovell has some good memories of that time."
She said: "There were 12 of us and we were all in a big Nissen hut, so you get really friendly. It's like a little family."
The RAF Benevolent Fund is the RAF's leading welfare charity, providing support for currently serving personnel, and veterans, their partners and families. During 2020, the Fund has adapted its welfare services to help members of the RAF Family who have been affected by the Covid-19 pandemic.
If you know a member of the RAF Family in need, visit rafbf.org to find out how the Fund can help.