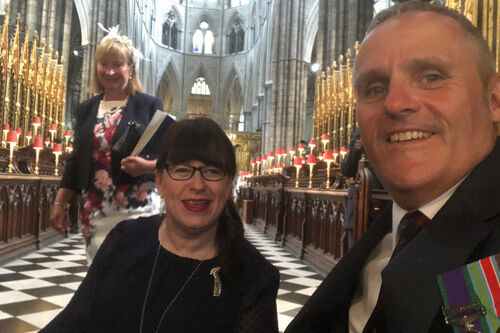 "A day to remember and a day to be proud"
RAF Benevolent Fund beneficiary Luke Delahunty joined Her Majesty The Queen and members of the Royal Family at a Westminster Abbey service to celebrate the RAF's centenary earlier this month. In this guest blog, he tells us about his day.
What a day! What an amazing day! A day to remember and a day to be proud. Not only proud of the RAF and all its achievements since its formation 100 years ago, but also proud to have been a part of that incredible story, albeit a small part.
Being greeted at Westminster Abbey by Gunners from the RAF Regiment was a great way to start my day. Immediately after transferring from the taxi into my wheelchair, I'd bumped into old Regiment colleagues, still serving, and that was a recurring theme for the day.
The service in the Abbey was incredible, a very poignant celebration of our history. Seeing Her Majesty The Queen up close is something I've not had the honour of doing for a long time, since my days on the Queen's Colour Squadron. One of the best parts for me was seeing Prince Harry wearing RAF Regiment mudguards on his uniform; he's the Honorary Air Commandant of RAF Honington, the Regiment's depot. As he passed me, exiting the Abbey, our eyes met briefly but long enough to exchange nods. I've had the honour of meeting him a few times through the Invictus Games.
The reception at Horse Guards Parade was such fun. There were thousands of people, food and refreshments, static aircraft displays, more old colleagues, the RAF 100 baton, big screens to watch the parade from Buckingham Palace forecourt. Seeing so many RAF personnel on the forecourt was a sight to behold, as was the crowd on The Mall.
The flypast was the icing on the cake though. I particularly loved the '100' formation of the Typhoons. I didn't want the day to end.
By Luke Delahunty