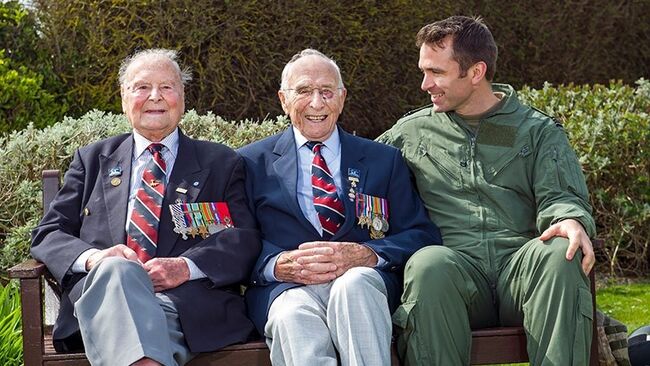 Fund awards £30K to SSAFA to help support the RAF Family
The RAF Benevolent Fund has awarded a grant of £30,720 to SSAFA, the Armed Forces charity, which provides lifelong support to serving men and women and veterans from the British Armed Forces and their families or dependents.
This grant – part of a three-year grant from the RAF Benevolent Fund totalling £90,000 – has been used to support SSAFA's Forcesline and Norton House services. Forcesline is a free and confidential telephone helpline, webchat and email service providing support for serving personnel, veterans, and their  families, while Norton House offers free, safe and supportive accommodation to families whose loved ones are receiving treatment for injuries at the nearby Defence Medical Rehabilitation Centre.
Pete Ashcroft, Head of Community Welfare Programmes, said: "Partnership working is an essential part of the Fund's support to the RAF Family, allowing us to get the expert help to the people who need it. The work SSAFA undertakes for the serving and veteran community is vital, even more so following the challenges the past two years have posed."
Jonathan Sandall, Director of Fundraising at SSAFA, said: "This generous support from the Royal Air Force Benevolent Fund will help us continue the vital support that the serving and veteran community of the RAF and their families rely on through SSAFA.

"We are always adapting our understanding and services to meet the changing needs of military personnel whenever and wherever they find themselves in need of our help.  Our focus is on helping them keep their independence and dignity.  And, we are proud to work in partnership with the RAFBF; and are extremely grateful for their continued support."
Senior Aircraftman Siobhan Rattray's family stayed at Norton House after Siobhan had an accident and sustained severe brain injuries. The house offered her family a sanctuary to base themselves whenever they visit and can concentrate on spending vital time with her. 
Siobhan's parents, Beryl and Jake, said: "When we first came to Norton House we were stressed and didn't know what to expect. But the team were so, so welcoming. To find we could access this incredible facility while Siobhan receives treatment has just been life changing. It has been a place where we can connect with other families who have been through a similar situation to us which can be really valuable."