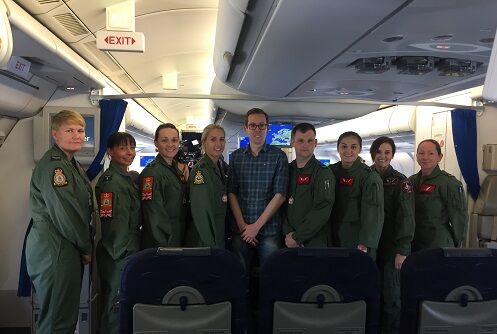 The RAF100 flypast from a very different perspective
As thousands looked to the skies over London for the RAF100 flypast earlier this month, two RAF Benevolent Fund staff members had a very different view. Welfare Projects Executive Pete Ashcroft explains.
If you were on the Mall on 10 July you probably saw a lot more of the impressive RAF100 flypast than I did! However, while you can say you saw it first hand from the ground I had the amazing privilege to see it from the air, to be part of it on board the largest aircraft in the flypast, the Voyager.
What an experience, it's not every day you get to fly at 1,000 feet over central London. An early start saw us arrive at RAF Brize Norton at 7am but that gave us an opportunity to see an amazing array of aircraft up close including the C-130 Hercules and the Atlas both of which are pretty impressive beasts.
We were lucky enough to get a briefing from navigator Sgt Andy Emberton who took us through the detailed steps taken to ensure that the Voyager's arrival over Buckingham Palace was correct to the second. Much to my surprise none of this was computerised but was down to Andy, his map and his stopwatch.
Andy and his fellow pilots Flt Lt Adam Mercieca and James Beattie got it spot on, passing exactly over the palace at just after 1pm. As a result I saw nothing of the crowds on the Mall but boy it is quite something to fly at what felt like level with the Shard. What Adam and the team hadn't warned us about was that flying at about 1000 feet in the wake of 30 aircraft was the turbulence! It may have looked smooth from the ground but it was a bit choppy in the air and it took the skill and professionalism of the crew to keep us going.
Overall it was an amazing experience that I'll never forget and I feel immensely privileged to have been allowed such an amazing view of such a historic event.