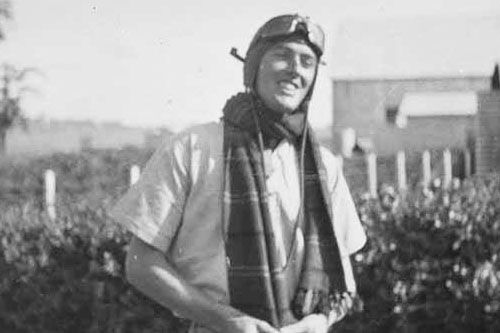 Roald Dahl: His RAF career
13 September is Roald Dahl Day, a day celebrating the ever-popular author's birth. Roald Dahl served in the RAF during World War Two as a pilot, which inspired his story about the troublesome 'Gremlins'. In a special blog, RAF Benevolent Fund Ambassador Graham Laurie looks back on Dahl's remarkable military career.
Roald Dahl left school in 1934 and worked for the Shell Oil Company as a Management Apprentice. On completion of his training Dahl was posted to Dar es Salaam in Tanganyika (now Tanzania).
As war approached Dahl was made a temporary Army Officer and on the day war was declared he found himself guarding a road south from the capital with 20 soldiers from the King's African Rifles.
Joining the RAF
In November 1939 Dahl, who was well over 6ft, decided to join the Royal Air Force and travelled to Nairobi for a medical. The doctor said, "Well I have a minimum height for pilots but no maximum, so as you are fit, you'll do". A month later he commenced flying training at Wilson Airfield, Nairobi on Tiger Moths.
On completion of the course he had to use the Imperial Airways flying boat service to Cairo before continuing on to RAF Habanniya, about 55km west of Baghdad in modern day Iraq, for Advanced Training on Hawker Harts. With this training completed Dahl was commissioned as a Pilot Officer in the RAF Volunteer Reserve and posted to No. 80 Squadron based in North Africa.
On 19 September 1940, Dahl was to deliver a new aircraft to his Squadron. He was told to land at Fuqa on the North African Coast where the Station Commander would advise him of his final destination. He took off with an hour of daylight left for the 40 minute trip. Alas he could not find the airstrip and eventually had to make a forced landing in the desert during which the aircraft overturned.
Dahl was knocked unconscious and when he came round his aircraft was on fire but luckily he managed to unstrap and crawl away from the wreckage. He was found the next morning, by the Suffolk Regiment, badly injured. He had actually landed in what was 'no mans land' between the allies and the Italian Forces.
His Squadron had moved that day and were now 50 miles away. Dahl was taken to a first aid post, but eventually via the nightly medical train, to a British military hospital in Alexandria where he spent four months recovering and a month in rehabilitation before he went for a medical in Cairo. Much to the surprise of many he was once again declared fit to fly.
Back to work
He was to rejoin No. 80 Squadron who were based at Elevsis in Athens. He was now flying a Hurricane Mk1, the first aircraft he had flown with an enclosed cockpit, which really did give the tall Officer problems. After his first flight, he landed and had to be lifted out of his aircraft suffering from cramp after the three-hour flight.
The next day he flew his first operational sortie over the port of Pireus. In his book 'Solo' Dahl claims to have shot down an enemy aircraft but his log book contains the words 'no enemy action'. It was, in fact, the next morning when Dahl shot down his first aircraft. This was followed by another success the following day.
Dahl was then involved in what was known as 'The Battle of Athens' when 12 Hurricanes were attacked by over 200 German aircraft.
Dahl landed safely although he had lost rudder control from a stray German bullet. Following the enemy attack, the Squadron moved their base and was later re-formed in Haifa, Palestine.
'Shot Down over Libya'
A period at the Air Ministry followed before a posting as Assistant Air Attache in Washington where Dahl met the writer C S Forester. He was asked to write some notes of his ordeal in North Africa which were later published in the Saturday Evening Post. 
Dahl coupled his work with yet more writing and his story 'The Gremlins' was picked up by Walt Disney who wanted to make a film of it. The Air Ministry agreed that the royalties should go to the RAF Benevolent Fund. The book was published but sadly Disney never made the screen version as Dahl was unable to get copyright of the word 'Gremlins'. 
At the end of the war, Dahl decided to become a full-time writer and, as they say, the rest is history. Dahl died in 1990 but is probably better known today than at any other time during his lifetime. His books and films are known worldwide and there are currently two musicals linked to his stories at theatres in London. He was truly a remarkable serviceman.
By Graham Laurie