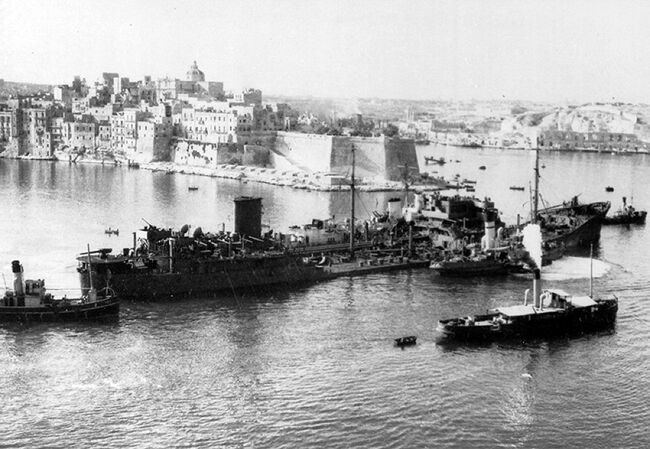 "By the time we arrived the island had suffered massively and was practically on its knees"
During the Siege of Malta, the island had been at the mercy of the German and Italian bombers until Allied ships and aircraft arrived to reinforce their defences.
Spitfire pilot Allan Scott was one of those tasked with protecting the small Mediterranean island during the Siege of Malta. To mark the 75th anniversary of the end of the Siege, Allan remembers what the island was like when he arrived all those years ago.
"Joining up in 1940, I would never have imagined that an island more or less the size of the Isle of Wight would be the scene of some of the most intense and thrilling action I would experience during the war.
"By the time we arrived the island had suffered massively and was practically on its knees. With their almost total air superiority, the attacks by the Axis powers had been relentless.
"The Maltese people suffered incredibly under these raids and lacked everything. They had been bombed out of their homes, had very little fuel, food or clothing and lived with the constant threat of invasion.
"Moreover, the air raids on them had become vicious, their purpose to crush the spirit of the islanders who had held out for so long. The award of the George Cross during the siege was a fitting recognition of their endurance.
"We were scrambled every day to engage the bomber and escorting 109s as they approached from Sicily and there were many dogfights in the early months of July and August.
"The conditions on Malta during these hectic months were grim. As our insubstantial breakfast showed (a cup of tea and one slice of bread) there was little food, not only for the Maltese civilians but for the pilots flying every day in combat.
"Time, like food, was precious. When we were not in the air we would grab what rest we could by sheltering from the blazing sun under the wings of our aircraft, ready to scramble at a second's notice.
"When in the air, we had to face not only a fierce, relentless enemy but the inhospitable environment of Malta itself. The options for making an emergency landing were dire; either ditching in the sea and hoping to be picked up, or risking a landing in the rocky terrain of fields whose boundaries, unlike the more forgiving hedges back home, were marked by stone walls.
"It would be a case of straining every hope, every physical effort and what might be left of an aircraft's flying capability to get back to base."