Tania Daschofsky was just 23 when her world changed in an instant with the news her fiancé, Ben Knight, had been killed in an aircraft explosion. The Fund has been by her side ever since and now she's preparing to complete a daredevil abseil as her way of saying thank you.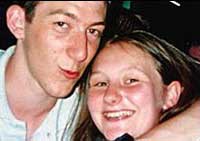 On Sunday 21 October Tania and 18 other people will take on the Forth Road Bridge abseil, to raise money for us - and she has already raised almost £1000!
She explained: "When Ben died the RAF Benevolent Fund were amazing. They immediately sent a cheque, as Ben had been contributing to the RAF Dependants Fund, and quietly let me know they were there if I needed them.
"It was a weight off my shoulders. It made a big difference that they recognised me as Ben's next of kin, even though we weren't married. I didn't have to prove myself, the Fund already knew.
"They have always been there which is why I wanted to do something for them to hopefully raise funds and raise awareness of what a wonderful charity they are."

Tania's fiancé Sergeant Ben Knight was one of 14 servicemen, 12 of them from the RAF, who died when the Nimrod they were flying in exploded over Afghanistan in 2006. Twenty-five-year-old Ben was a weapons systems operator on 120 Squadron, based at RAF Kinloss.
Tania, who lives in Inverness, said: "I still struggle to find the words to explain the feeling when I was given the news that Ben had died. You cannot really describe what that feeling is until you experience it. It was completely devastating.
"Two officers arrived at my door in full RAF uniform and I knew straightaway."
That was 12 years ago and Tania, now 35, says the RAF Benevolent Fund's constant support in her life means she still feels connected to the RAF Family.
She added: "Even though I have now married and have a family of my own, the RAF Benevolent Fund have continued to support me. I know all I need to do is pick up the phone and they'll be there."
This is the second year a team of fundraisers has taken on the incredible 165ft challenge to abseil from the Forth Road Bridge. Tania and her fellow fundraisers, including two other RAF widows, have already raised more than £3,000 for the Fund. Although Tania admits it's not going to be easy!
She said: "I have avoided thinking about it if I'm honest - I'm terrified. I don't know how high it is or anything. I'm just going to turn up and get it over and done with!"
To sponsor Tania go to her Justgiving page.