RAF Benevolent Fund supporter Peter Hulme is embarking on an exciting trek, walking 450 miles from Lisbon in Portugal to Santiago de Compostela and onto Finsterre in Spain. Peter tells us more.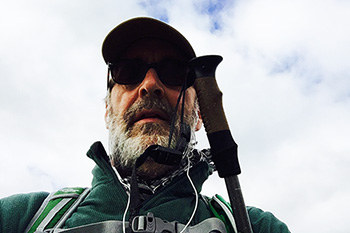 My challenge is called the Portuguese Camino which is a historical pilgrimage walk.
I'm carrying my world on my back and I hope to complete the walk to Santiago in 25 days and then another three days to Finisterre, if my legs are up to it!
I know all about taking on big challenges – my grandfather is Sir Malcolm Campbell and my uncle is Donald Campbell, two of the most prolific record breakers in history on land and water.
Plus last year I walked 580 miles across northern Spain from St Jean Pied de Port in France to Finisterre, some 560 miles, so I know what to expect.
I'm also from military background and I passionately believe in the welfare of our servicemen and women so I am delighted to be able to support the RAF Benevolent Fund.
By Peter Hulme
Follow Peter's challenge on his blog, Peteriswalkingagain.blogspot.com