As the Battle of Britain wore on, the critical shortage of trained pilots became more and more apparent. In July 1940, the RAF announced it was to form two Polish fighter squadrons: 302 and 303 Squadrons.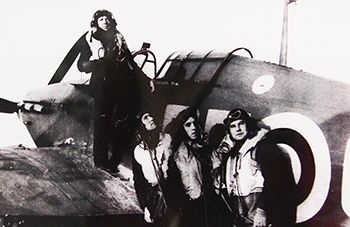 Polish pilots came with a fearsome reputation, not only for their superb flying skills but also for their commitment in action.
On 30 August 1940, the squadron scored its first victory while still officially non-operational, when Flying Officer Ludwik Paszkiewicz shot down a German aircraft during a training flight.
The squadron was declared operational the next day by No. 11 Group RAF and flew out of RAF Northolt.
No. 303 Squadron became the most successful Squadron during the Battle, shooting down 126 German aircraft in only 42 days. Czech Sergeant Josef Frantisek, also of '303', was the top scoring pilot with 17 confirmed victories.
Frantisek was a maverick pilot, prone to flying off alone to intercept enemy aircraft. It was said that Frantisek would often 'patrol' the area of Kent, ready to attack German aircraft as they flew on their way back to base, low on fuel and ammunition. He was sadly killed, aged just 27, on October 8 1940, when his Hurricane crashed in Ewell, Surrey during landing.
"Had it not been for the magnificent material contributed by the Polish squadrons and their unsurpassed gallantry, I hesitate to say that the outcome of the Battle would have been the same."
Air Chief Marshal Sir Hugh Dowding
The Polish Squadrons more than lived up to their reputation for flying prowess – during the Battle of Britain they shot down a total of 203 enemy aircraft constituting 12 per cent of the Luftwaffe, and also destroyed 193 V-1 and V-2 German Flying Bombs. Among the non-British aircrew, the Polish Squadrons were the largest contingent of the RAF comprising over 150 pilots.
Twenty-nine Polish pilots were killed in action but the immense contribution of this small band of pilots has never been forgotten and their memory lives on at the Polish War Memorial near Northolt.
Visit the Battle of Britain homepage