Sergeant Innes Manson has raised £1,395 for the RAF Benevolent Fund, despite being seriously injured during his Man Vs. Typhoon challenge at RAF Lossiemouth.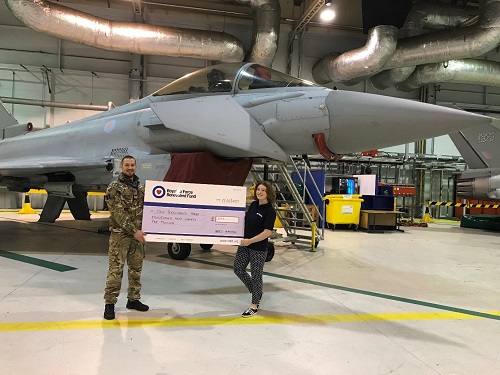 Innes set himself the challenge of pulling the 12-ton Typhoon 30.5 metres at the RAF station last September but just after getting the jet up and moving from the starting line, he suffered a horrible injury, when his right Achilles Tendon snapped.
Innes' original commitment to support the RAF's leading welfare charity stems from a tribute to his friend and colleague who was killed while deployed overseas.
A​manda Donaldson, Regional Fundraiser for the RAF Benevolent Fund, said: "Innes' determination to raise funds for the RAF Benevolent Fund is inspirational! I'm glad to see there are no lasting effects from his injury.
"It's because of dedicated fundraisers like Innes that we're able to continue to do the work we do, looking after the RAF Family."
Innes has not been deterred and is planning to take on the challenge again next year, in Man vs Typhoon Mark II!