As a charity that receives no routine government funding we rely on our fantastic supporters to take on, often incredible, challenges on our behalf. When John Robertson was involved in a road traffic accident we were there for him and ever since then he's been fundraising and advocating on our behalf.
I joined the Royal Air Force in November 1989 as a Weapons Mechanic and was posted to RAF Wittering in June 1990 as a member of 233 OCU latterly 20(R) Squadron as a Senior Aircraftman.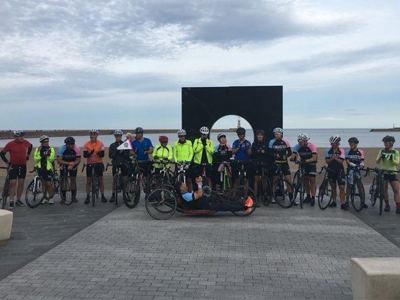 I was really interested in the armed forces and aviation, joining the Air Cadets from a young age, I'd seen first-hand what a career in the military would look like.
But sadly my career in the RAF ended sooner than I was expecting after a serious motorcycle accident in July 1994 left me paraplegic. I was medically discharged and during that uncertain time the RAF Benevolent Fund were in constant contact with me and brought some stability back into my life. While I was in the spinal unit they were instrumental in my recovery and addressing my long-term needs with housing and mobility equipment.
The RAF Benevolent Fund provided a gold-plated solution that was specifically tailored to me and my needs. They made sure I was able to remain close to my support network in Sunderland and that the new property was adapted to suit my new life as a wheelchair user.
I have now been in the flat for 22 years and it's still perfectly suited for my lifestyle. The Fund have also funded lightweight wheelchairs for daily use over the years and most recently a sports wheelchair enabling me to participate in wheelchair basketball.
I would say to anyone else that may be in need or suffering in silence, get in touch with the Fund and they may be able to help you. It was the best thing I ever did. If it wasn't for the Fund I simply wouldn't have been able to achieve all of the wonderful successes I've had, like representing Great Britain in sailing.
And now I want to give something back. Last weekend I took part in the C2C challenge. It's a bike ride from Whitehaven in Cumbria to Sunderland on the East coast, covering about 120 miles through the Lake District and over the Pennines which involves some quite steep climbs.
We completed the ride in three days, riding out of Whitehaven on Friday morning and arriving into Penrith safely and just in time for dinner and a lie down that night. Then Saturday was another early start as we left Penrith and headed to Nenthead and finally completing the last 52 miles on Sunday which was luckily all downhill. When we finished the buzz was like nothing I had ever felt.
I've wanted to do the ride for a few years but now I've retired from sailing I was keen to get stuck in and raise as much money as possible for the Fund and highlight the amazing work that it does because without the Fund I don't know what I would have done.
You can visit John's fundraising page by visiting www.justgiving.com/owner-email/thankyou/JOHN-ROBERTSON266