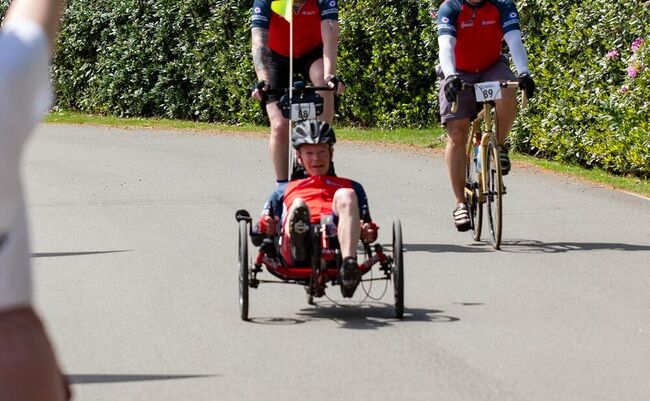 'Dambusters Ride is for everyone – I can't wait to take on the challenge on my recumbent trike!'
With registration now open for the Dambusters Ride, a cycle fundraiser organised by the RAF Benevolent Fund, the RAF's leading welfare charity, a Lincolnshire-based veteran is gearing up for next year's event. 
Jon Knott, who lives in Westwoodside, in North Lincolnshire, is preparing to saddle up in his recumbent trike to take on the challenge again in May. 
Jon, 53, who served in the RAF for 27 years, said: "I am taking part to support the RAF Benevolent Fund, by raising funds for a charity close to my heart and to achieve a manageable physical goal with like-minded friends and colleagues. The RAF Benevolent Fund has supported me and my family in the past and I want them to still be available to support other beneficiaries in the future. I believe the Dambusters Ride is open to all, I even rode with one of my army veteran pals last year and I was also one of a number of recumbent tricycle riders, so it's not only for speed demons. I'm ready to sign up for next year's ride now."
Speaking about the registration process he said: "It is just a few short lines on the online application and you're ready to go."
The annual Dambusters Ride pays tribute to the Dambusters, members of the RAF's 617 Squadron who were assembled to bomb three dams in Germany's Ruhr Valley on the night of 16-17 May 1943 – also known as Operation Chastise. 
And this year marks 80 years since the risky raid, in which the revolutionary bouncing bomb, the brainchild of engineer Barnes Wallis, was dropped at low level on Germany's industrial heartland in the Ruhr Valley. 
The mission was a success, but the cost was high; of 133 aircrew who left, 53 were killed and three became prisoners of war.
The Dambusters Ride consists of two elements: a Virtual Ride on the weekend of 6-7 May and a Heritage Ride taking place in Lincolnshire on Saturday 13 May. 
Because of the Virtual Ride option, fundraisers from all over the world will be taking part in the event. 
The physical Heritage Ride, which include 100 miles, 80 miles or 40 miles options, will take place on 13 May 2023 with routes starting finishing at the Petwood Hotel, in Woodhall Spa, Lincolnshire, the home of the Dambusters. 
Whether you want to take part on your cycling machine at home, attend the Heritage Rides in Lincolnshire, the Dambusters Ride is open for everyone. 
The RAF Benevolent Fund provides financial, emotional, and practical assistance to serving and retired RAF personnel and their families. This includes grants to help with financial difficulty, mental health support, Airplay youth clubs, and more.
For more information and to register for the Dambusters Ride here.
Signed up and need some help fundraising? Check out our tips and tricks here.