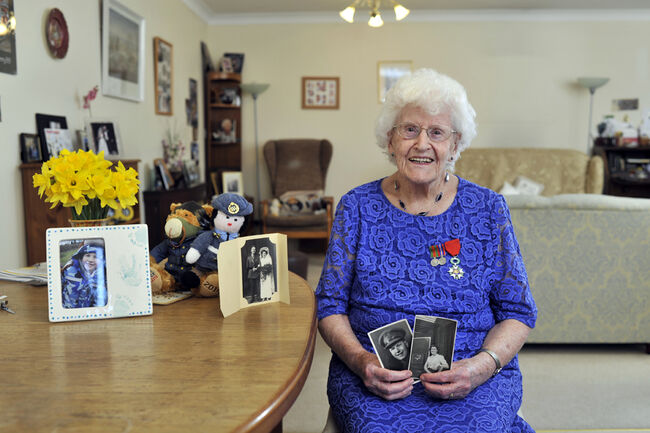 "It was such a waste of life"
For 103-year-old Second World War veteran Rose Davies, Remembrance is a time to pause and reflect on the loss of war.
Rose joined the RAF as a radar operator in 1941 and was stationed at RAF Ventnor on the Isle of Wight, during the D-Day landings. Her fiancé Wilf was stationed overseas in the Middle East and she decided to join the war effort, in the hope of bringing him home sooner.
Although a little unsteady on her feet these days, this Sunday Rose will make the trip to her local church to pay tribute to all those who lost their lives during the conflict.
She said: "I feel great sadness for all the people who went far, far, far beyond in their service. I do not think of anyone in particular on Remembrance Sunday, there is just so many to remember. It was such a waste of life.
"I was lucky, my husband came home. He had been in the Middle East for four years, and I think about that, that we did not see each other for four years. You could not imagine that happening now."
On D-Day Rose and her colleagues worked though their usual six-hour shift, to complete 10 hours without a break, guiding ships and landing craft across the English Channel.
Like so many veterans of her generation, Rose downplays her role in history. She said: "It never leaves you, you never forget. I forget the details but I remember the feelings of that day.
"I always felt my role in D-Day was insignificant in comparison to those brave lads who risked their lives and, in some cases, lost them."
Rose is supported by the RAF Benevolent Fund to ensure she lives in comfort and dignity in her well-earned retirement.