At 88 years old, John Miles is the only remaining post war Guinea Pig. In 1951, John was on a basic training exercise when the Harvard he was flying crashed and caught fire. Due to the nature of his injuries, John was treated at East Grinstead Hospital, where he met Sir Archibald McIndoe.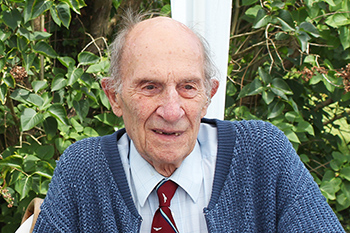 John Miles was 17-years-old when he was called up for service, just two weeks before VJ Day and the end of the Second World War.
After completing his National Service with the Navy, John attended university and joined his local University Air Squadron where he underwent basic flying training.
John recalls: "My initial training was spent flying the Tiger Moth and then the Chipmunk. I loved it!"
In 1951, John was on a routine training exercise in a Harvard when he faced difficulties landing at Biggin Hill. John turned the Harvard back around to attempt the approach for a second time and it was at this point that his aircraft hit an obstacle, causing the plane to catch fire.
On impact, John's safety strap broke and his face smashed against the windscreen, resulting in a broken jaw. John was pulled from the burning wreckage by Dr Francis Ensell, the Station's doctor. Dr Ensell was awarded the George Medal for his act of bravery, although John has no recollection of the accident.
John was taken to Farnborough Hospital and later transferred to East Grinstead Hospital where he stayed for six weeks. John suffered third degree burns on his arms and legs and these, along with his broken jaw, were treated by renowned plastic surgeon Percy Jayes. Whilst at East Grinstead Hospital, John met Sir Archibald McIndoe.
John says: "I was treated by Dr Percy Jayes but I remember meeting Sir Archibald McIndoe and being very impressed that he knew my name."
Just a year later, John returned to flying and joined an operational unit within the Auxiliary Air Force. The unit was part of Fighter Command, which John recalls as "great fun, as it meant that we could have all the fun but without being shot at!"
The unit disbanded in 1956.
Today, John says: "I think it's great that the Club is still going after all this time, and I can't think of any serious reason for it stopping...I think it will go on until the very last one of us finishes his journey's end."
Visit The Guinea Pig Club homepage